Limited Edition 250 ml Rosso Nobile Gift Box
Gift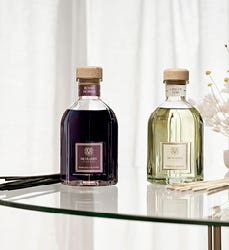 It is very important to use all the sticks that are provided with the fragrance.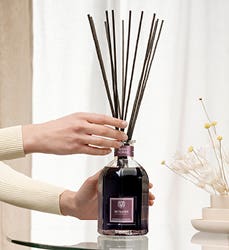 For the first use, it is necessary to let the sticks soak in the fragrance for at least 1 hour before turning them.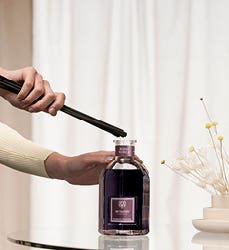 To adjust the intensity of the fragrance, turn all or only some of the sticks, once or several times a day.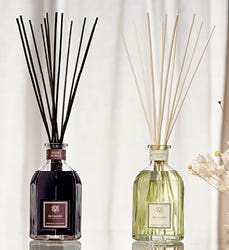 The sticks should be replaced once overly saturated, as they lose their capillary function and no longer allow the fragrance to evaporate.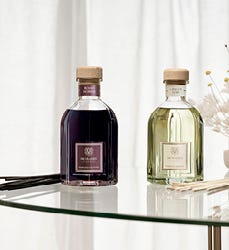 How long a fragrance lasts depends on the size of the room it is in, the temperature, its exposure to direct sunlight, and any air currents that can accelerate its evaporation.
In order to avoid accelerating the natural evaporation, it is advisable to follow a few simple rules:
- Choose the appropriate diffuser size for the area you wish to scent.
- Place the fragrance far away from any heat sources.
- Purchase a refill of the same fragrance and use it to always maintain the liquid level at the height of the bottle's curve. This will prevent the amount of air in the bottle from accelerating the natural evaporation of the fragrance.
ATTENTION: Do not place the diffuser on polished or painted surfaces, on top of electrical equipment, or near or on top of sources of heat.



• The fragrance diffuser must be positioned at human height level.
• For medium-sized rooms, it is preferable to place the diffuser in the center of the room so when people pass by, the air moves and the fragrance circulates.
• For larger rooms it is preferable to have two positioned on the two opposite sides of the room you wish to fragrance.
DANGER
H412 - Harmful to aquatic life with long lasting effects. H319 - Causes serious eye irritation. H225 - Highly flammable liquid and vapour. P101: If medical advice is needed, have product container or label at hand. P102: Keep out of reach of children. P210: Keep away from heat, hot surfaces, sparks, open flames and other ignition sources. No smoking. P280: Wear eye protection/face protection. P370+P378: In case of fire: Use ABC powder extinguisher to extinguish. P501: Dispose of contents and / or their container according to the separated collection system used in your municipality. EUH208: Contains CITRUS AURANTIUM DULCIS, Linalool. May produce an allergic reaction.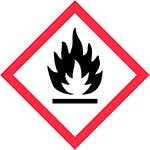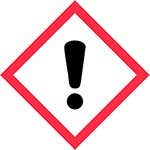 MADE IN ITALY
Limited Edition 250 ml Rosso Nobile Gift Box
The timeless notes of the Rosso Nobile room fragrance in a 250 ml format, housed in a precious limited-edition handmade box. Blue and gold celebrate the starry sky of Florence and the iconic shapes of Florentine art. Give the gift of scented emotions enclosed in magical handmade boxes, to experience the incomparable charm of a stroll along the Ponte Vecchio to discover the beating heart of the city.
Fragrance gift on all orders above €100

Complimentary sample with every order

Free shipping on all orders above €120