Rosa Tabacco 2500ml Refill complimentary Sticks
Diffuser refill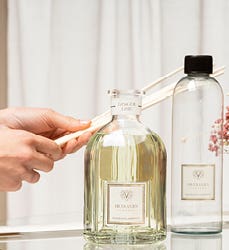 To continue enjoying the same olfactory performance remember to replace the overly saturated sticks with the new ones.
Use all the sticks that are provided with the fragrance.
For the first use, let the sticks soak in the fragrance for atleast 1 hour before turning them.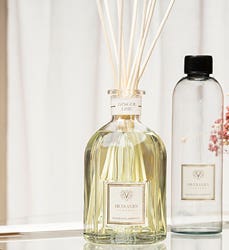 To adjust the intensity of the fragrance, turn all or only some of the sticks, once or several times a day.
Base Ø x Height:
11,5x29 cm
Rosa Tabacco 2500ml Refill complimentary Sticks
The Rosa Tabacco fragrance has a bold and unique personality. The 2500ml format includes a new set of sticks to match the size of the elegant diffuser you wish to refill. Elegant and delicate like a rose, warm and bold like tobacco, Rosa Tabacco by Dr. Vranjes Firenze is a surprising and extravagant olfactory experience.
Complimentary sample with every order

Fragrance gift with orders of €100 or more

Free shipping on all orders above €150